_________________________
"
"
I highly recommend checking Hawaii Self Storage for all types . the staff at Hawaii Self Storage have great customer servicing. Stop by and inquire, Hawaii Self Storage Pearl City location.
"
"
I have been storing at HSS Pearl City for 10+ years. I'm extremely satisfied with the customer service there. Liz has been a stable contact for me each time I have questions or need assistance. She has gone above and beyond to help me over the years. Liz! YOU are A-W-E-S-O-M-E!!!! A big shout-out to the entire HSS Pearl City staff! Thank you so much for your big hearts, filled with Aloha!
"
"
Enjalyn Makeyla
on 02/05/2022
The Staffs, especially Liz in particular, is very helpful, corteous, pleasant and always willing to help. I highly recommend this Storage. It's very safe and clean.
"
"
Jai's Reaction
on 05/05/2022
Mr. Matsuoka was very helpful and provided a professional opinion on what I needed. Very much will continue doing business here.
"
"
tiffany devous
on 03/30/2022
Reid Matsuoka gave me the best customer service experience! He really helped me out! You should most definitely give him a raise! He works very hard for his job!
"
"
Iwalani Gandee
on 03/30/2022
The staff are friendly and helpful, you get to view units before you sign the contract. They have a great deal if it's your first time renting a locker. Just be mindful the published prices do not include the mandatory insurance added to your monthly invoce and of course sales tax. If you are afraid of the dark, bring a flashlight! The lights go into energy saving mode quite often. The access hours are perfect for my hectic schedule, but my section has system issues. If you are trying to be in and out or are on a tight schedule outside of the office hours... you might want to request a locker you access by the office. Also turning into the entrance can be stressful, it's easier to approach from ewa side. Coming from town side you use the turning lane for costco gas and I've almost been sideswiped and close to being rear-ended a few times... and the 2 town bound lanes usually block it unknowingly while at the red light.
Promo rate valid for 3 months
Approximately 80-149 square feet of space. Holds contents of two to three rooms such as mattress sets, sofas, armchairs dining room sets, and multiple boxes. Excellent for moving, remodeling, or if you simply need more space!
Promo rate valid for
3 months
__________________________
Approximately 30-79 square feet of space. Holds contents of one room or large closet, store boxes, files, small furniture, bikes, garden tools, recreational and or seasonal items. One of our most popular sizes to add extra square feet to any home or office!
Promo rate valid for 3 months
_______________________________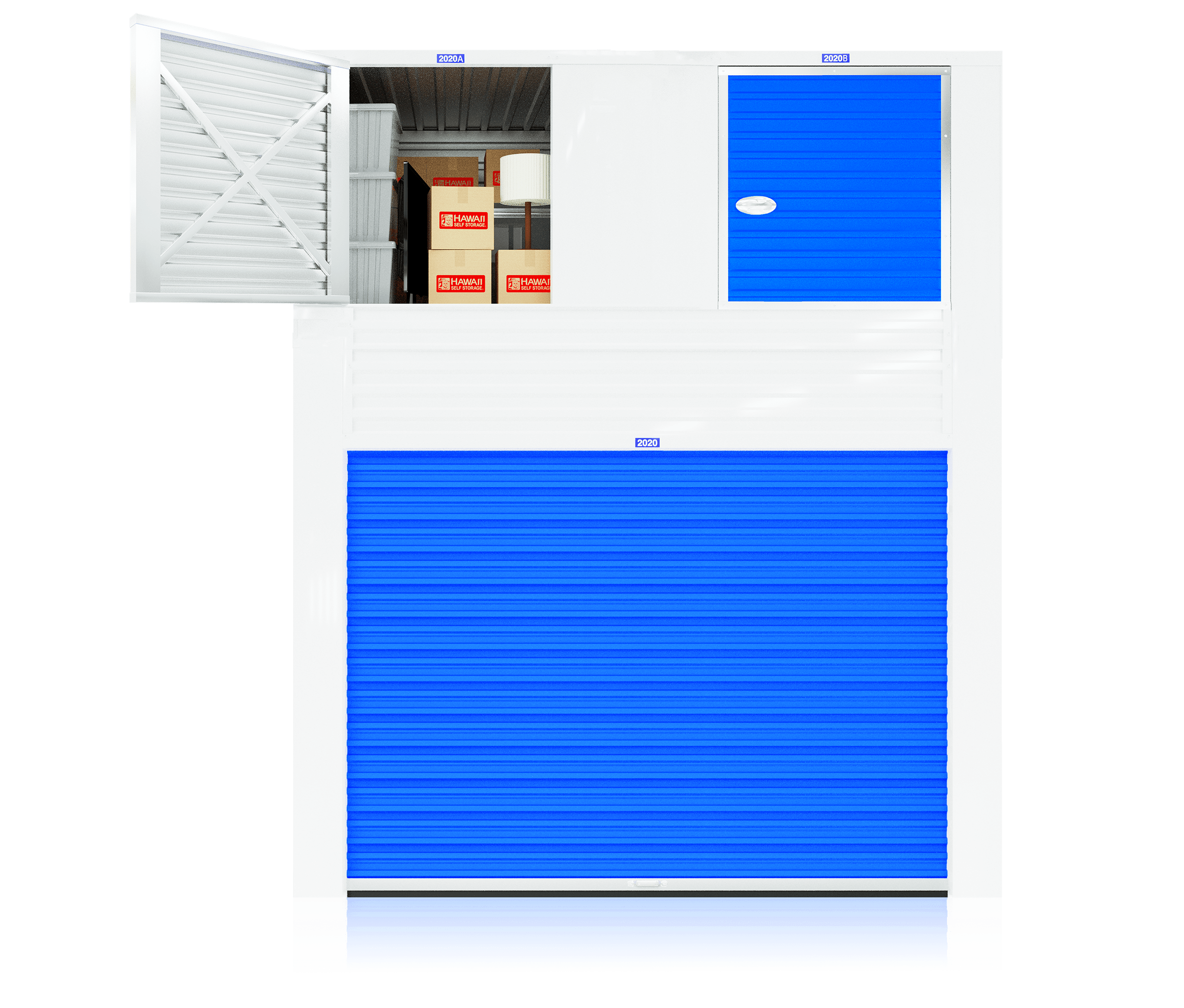 Approximately 16-25 square feet of space. Perfect to store boxes, files, bins, luggage,and/or holiday decorations. Don't be fooled by the "small" size, these stackable units pack a punch of space and can clear the clutter around any home, dorm, or office!
Total Given Back to our Community
"HAWAI'I SELF STORAGE is one of the most CHARITABLE Storage Companies in the Nation."

-Inside Self Storage Magazine
Pay Your Bill

Manage Your Account

Contact Us

60% cotton, 40% polyester

Available at our 7 locations

While supplies last

Making packing easy

Premium bundle packs

Available at our 7 locations

Moving Services Available

Packing & Moving

Labor & Disposal

Installing & Assembling